Washing Machine Repair in Ernakulam
WASHING MACHINE
REPAIR SERVICE
Fix your washing machine issues with professionals.
Onsite repair and maintenance of washing machines all over Ernakulam district.
Enter your contact details here to help us serve you better & faster.
Washing Machine Repair Services
Ours is a well-established firm that is based in Cochin/Ernakulam and involved in rendering proficient Washing Machine Repairing services to the clients. Our professional team conducts the entire procedure of repairing with the aid of advanced tools. We reassembled the entire Washing Machine in order to clean the drum and base for hygiene. We provide onsite/doorstep repair with a one-month warranty.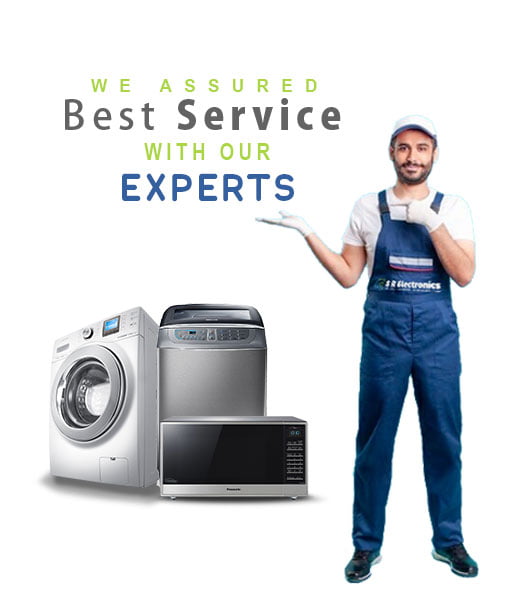 Types of Washing Machine Serviced:
Fully Automatic washing machine – Front load
Fully Automatic washing machine – Top load
Semi-Automatic washing machine
The significant brands we service are:
Washing Machine
PCB Repair Services
SR Electronics provide Washing Machine Inverter PCB repair services at reasonable prices. With the support of a team of experts, we offer Washing Machine PCB repair services at a low cost with 3 months guarantee. We have over 20 years of experience in PCB repairing. SR Electronics is a trusted service center in Ernakulam district repairing PCB boards for all national and international brands.
washing machine repair in ernakulam, washing machine repair man, washing machine repair near me
Strange Vibration in Washing Machine
Reasons:
Overload of clothing causing unbalance
The machine isn't as expected evened out to the floor
Water Leakage Problem
Water spillage is the most widely and commonly recognized problem experienced; it may not be a significant issue all time. Water spillage could occur because of very simple issues also, for example:
The washing machine is overloaded or not offset with the floor
Washing machine hoses are not embedded or joined appropriately
Washing machine hose are exhausted because of overabundance use
Machines channels are obstructed or blocked
Loud Sound from the Machine
loud sounds, for example, clicking, sputtering, or murmuring can be brought about by objects that are obstructed in the channels, objects blocked inside the machine or inner sensors will likewise cause loud sounds.
Machine Not Running Properly or Fill With Wate
Before you think the most exceedingly awful circumstance, there are simple things you need to keep an eye on this matter
The first thing you should check is if the machine is connected appropriately. Electrical switch to be checked first.
The first thing you should check is if the machine is connected appropriately. Electrical switch to be checked first.
Inside cover switches to be checked. For pretty much every washing machine, the top should be shut and the top lid switch should be closed while working. Ensure there is no build-up or dirt on the switch that is making it jam during the process.
 
Washing Machine Won't Drain Or Spin Appropriately
•Drainage issues are exceptionally normal and it's caused by blocked hoses, over-loading of garments, obstruction, or an excess utilization of detergents.
Washing Machine Dispensers are Full of Detergent
The most regular issue with an automatic dispensers/distributor is the usage of the washing powder or fluid wash.
Lack of appropriate cleaning additionally causes a similar issue; make a point to clean your dispenser consistently and appropriately
Foul Smell From Machine
Foul scents from machines are normal, improper utilization detergents, unreasonable bubbles leave grimy buildup on different machine parts and prompts trap smells.
Monthly Cleaning of your machine will assist with forestalling smelly buildup.
washing machine repair in ernakulam, washing machine repair man, washing machine repair near me, washing machine repairing service, washing machine repair kochi, washing machine service centre near me washing machine repair home service near me, fully automatic washing machine service
washing machine repair near me
washing machine repair in ernakulam
Fully Automatic Washing Machine Repair Service Installation in Ernakulam
Semi Automatic Washing Machine Repair Service Installation in Ernakulam
Top Loading Washing Machine Repair Service Installation in Ernakulam
Front Loading Washing Machine Repair Service Installation in Ernakulam
Washer Dryer Service Reapir Installation in Ernakulam
Commercial Washing Machine Repair Service Installation in Ernakulam
Water Leakage Washing Machine Repair Service in Ernakulam
Washing Machine Motor Replace | Repair in Ernakulam
Washing Machine PCB Board Replace | Repair in Ernakulam
Washing Machine repair fixes
Washing Machine Drum Repair | Replace in Ernakulam
LG Washing Machine Service Centre in Ernakulam
Whirlpool Washing Machine Service Centre in Ernakulam
Samsung Washing Machine Service Centre in Ernakulam
IFB Washing Machine Service Centre in Ernakulam
Videocon Washing Machine Service Centre in Ernakulam
Godrej Washing Machine Service Centre in Ernakulam
Haier Washing Machine Service Centre in Ernakulam
Lloyd Washing Machine Service Centre in Ernakulam
Bosch Washing Machine Service Centre in Ernakulam
Electrolux Washing Machine Service Centre in Ernakulam
Panasonic Washing Machine Service Centre in Ernakulam
Onida Washing Machine Service Centre in Ernakulam
Kelvinator Washing Machine Service Centre in Ernakulam
Sharp Washing Machine Service Centre in Ernakulam
Intex Washing Machine Service Centre in Ernakulam
GE Washing Machine Service Centre in Ernakulam
BPL Washing Machine Service Centre in Ernakulam
Panasonic Washing Machine Service Centre in Ernakulam
MARQ Washing Machine Service Centre in Ernakulam
Micromax Washing Machine Service Centre in Ernakulam
Kenstar Washing Machine Service Centre in Ernakulam
SpeedQueen Washing Machine Service Centre in Ernakulam
Daewoo Washing Machine Service Centre in Ernakulam
Avanti Washing Machine Service Centre in Ernakulam
Midea Washing Machine Service Centre in Ernakulam
Hitachi Washing Machine Service Centre in Ernakulam
Singer Washing Machine Service Centre in Ernakulam
Croma Washing Machine Service Centre in Ernakulam
White Westinghouse Washing Machine Service Centre in Ernakulam
Hyundai Washing Machine Service Centre in Ernakulam
Toshiba Washing Machine Service Centre in Ernakulam
AZE Washing Machine Washing Machine Service Centre in Ernakulam
Reconnect Washing Machine Service Centre in Ernakulam
Voltas Washing Machine Service Centre in Ernakulam
Mitsubishi Washing Machine Service Centre in Ernakulam
GEM Washing Machine Service Centre in Ernakulam
Sansui Washing Machine Service Centre in Ernakulam
Weston Washing Machine Service Centre in Ernakulam
Siemens Washing Machine Service Centre in Ernakulam
SVL Washing Machine Service Centre in Ernakulam
Vestar Washing Machine Service Centre in Ernakulam
Lonik Washing Machine Service Centre in Ernakulam
Venus Washing Machine Service Centre in Ernakulam